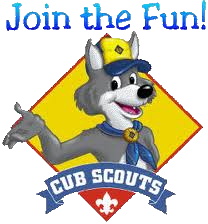 What is Scouting? It's fun, friends and family….
where skills are learned, confidence is built, and stories are born. Scouting is learning by discovery and discovery by doing. It's where a boy learns to trust and be trusted. A scout who hikes and camps learns to appreciate the outdoors and take care of it. A Scout who is part of a den and a pack has a genuine sense of belonging.
Our Pack has a ton of fun events every year!


Camping:
Cub Scout Day Camp
Cub Scout Resident Camp
Pathways to Eagle for Webelos
Eagle Cave Camping for Webelos
Family Camp
Possible new events coming this new year!
Pack Nights:
Halloween Pack Night- dress up as your favorite character and visit stations of fun activities
Pack Olympics
Special guests such as Scientists and Animals
Fun games
Flag Ceremonies
Learning togetherness
Fun Events:
Raingutter Regatta
Pinewood Derby
Lock-in
Hiking
Bike Riding
Geo-caching
Blue and Gold Ceremony
Pack Graduation Picnic
Medieval Times
Community Projects:
Cleaning up areas in our neighborhoods
Scouting for Food
Feed My Starving Children
Planting trees and plants
Operation Christmas Child
St. Baldrick's
Collecting coats for the homeless
Memorial Day Ceremony
Veteran's Day Ceremony

There is so much fun and learning to happen with our Pack. I hope you choose to join us!
Come learn more at our Open Registration:
Saturday May 14th 2:00 P.M.
Fountaindale Library, Meeting Room B
Note: registration fees are due upon sign-up
Here is the Spring 2016 Recruitment Flyer.
Tags: recruitment