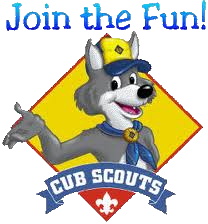 Bolingbrook Cub Scout Packs
Open Registration
An invitation to adventure for all boys completing grades K-4 and their parents. Boys entering Kindergarten in the Fall are welcome to join our Lions program, beginning June 1st.
Come learn all about Cub Scouts at Our Open Registration
Sunday, April 30th 1:00 pm
Fountaindale Library, Meeting Room B
*Registration fees due upon sign-up
What is Scouting? It's fun, friends and family….
Where skills are learned, confidence is built, and stories are born. Scouting is learning by discovery and discovery by doing. It's where a boy learns to trust and be trusted. A scout who hikes and camps learns to appreciate the outdoors and take care of it. A Scout who is part of a den and a pack has a genuine sense of belonging.
Pack 134
Pack Nights are at
Pioneer Elementary
On the 3rd Tuesday of each month.
www.pack134.net
Contact Info:
MembershipPack134@gmail.com
Bolingbrook Day Camp
June 12-15 at Village Hall
Resident Camps (overnight)
Morris, IL
3 session choices available
July 21-24 or July 28-31 or
August 3-6
Click to see full Spring 2017 Recruitment Flyer
Tags: registration