February is one of the busiest months in scouting. It's the birthday of Boy Scouts in America on February 8. We started our month off with Pinewood Derby. It's definitely a fun and creative activity!
Pinewood Derby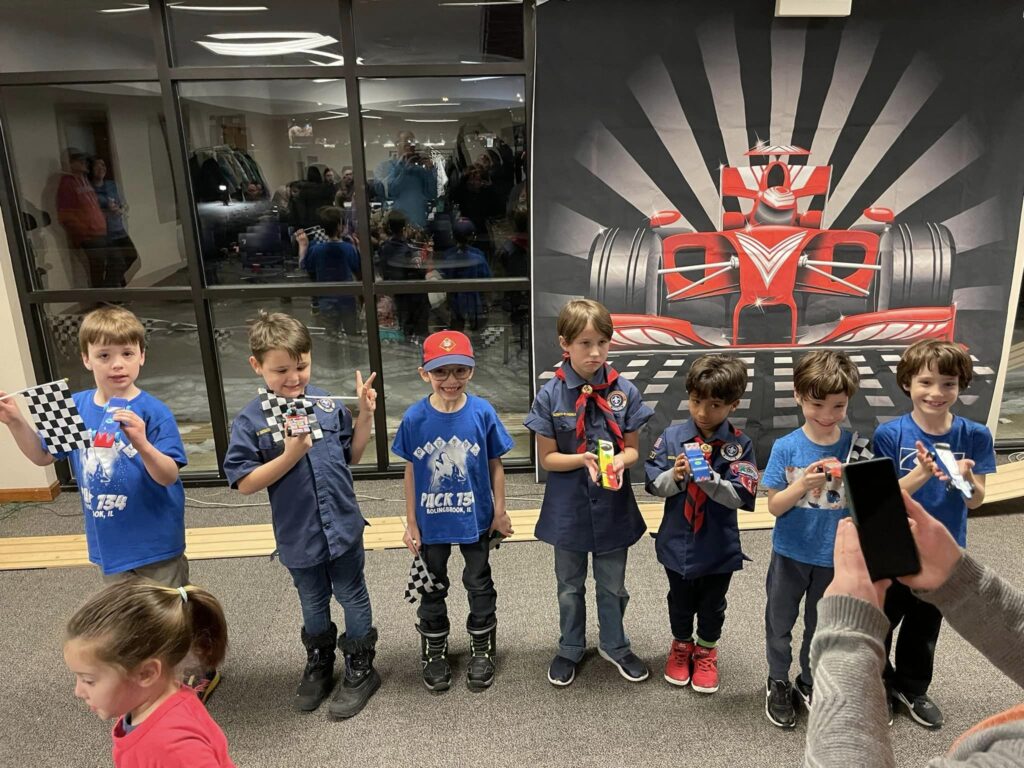 Here's a list of our winners:
Lions:
Connor
Kyle
Tigers:
Gavin
Joe
Isaac
Wolves:
James
Cam
Toby
Best design Logan
Bears:
James
Cam
Toby
Best design Logan
Webelos:
Jonathon
Alex
Arrow of Light:
Colin
Brayden
Jake
Best in Pack:
Gavin
Luke
Colin
Celebrating our Leaders
Our leaders are amazing people that help make the pack go. Without these volunteers we would not have a pack! Our award recipients this time were Angie as Rookie of the Year, Erica with Excellence in Leadership, and our past Cubmaster Tom got District Award of Merit.
Tiger Den Meeting
Our Tigers (and a couple siblings) worked on the Shapes in Art elective. They learned how different shapes can be put together to make more interesting art. They also made a 3D water color painting based off of a Van Gogh painting.
Bear Den Meeting
Bears presented about their pets or how animals help us. They also played animal Pictionary. Our den only had cats and dogs.
Blue and Gold
Our last event of the month was bittersweet. We always love seeing what our kids earn and seeing what they've accomplished so far this year, but Blue and Gold is also where we say "see ya later" to our Arrow of Light Scouts and a few leaders. Our Cubmaster, Erica, moved on from being Cubmaster…don't worry she'll still be around as Chartered Organization Rep. We also lost Calvin. They've both been such great leaders and we will miss them in their roles. We had 3 scouts cross over to Scouts BSA in February. One scout went to Troop 131 and the other two went to Troop 75. We had a fun afternoon celebrating the scouts, having a bake auction and silent auction, and having a yummy taco bar.
See you in March
We are beginning our Spring Roundup. We'd love to see your kids have fun in scouts with our kids. Hope you come join us for a future pack or den meeting and see how much fun your child could have as well. Be back soon with a March Activity Roundup.