Pack 134!!!
Another great Pinewood Derby event and a good time was had by all, or so I was told. I had fun for sure as well.
I am pleased to report that multiple parents, leaders, family members, friends, and scouts repeatedly came up to let us know how fun the event was. This is so important to our Pack to have fun at these events. Sure there are many life lessons that can be taken from events such as these but fun is number 1.
I would like to recognize and thank on behalf of Pack 134 those that made the event possible. I would like to offer an apology to those I will surely miss in the recognition.
Thanks to: Jim Fisher (Event chair), Rebecca Moore & Joe Koppel and other Web 1 leaders, all Web 1 families, Tom Courtney (Tiger Leader), Kathy Wyszynski (Web 2 Parent), Rikki Treece (Wolf leader who's son wasn't able to attend), Jamie Van Hoegarden, Alex Campbell (Wolf Leader), all others that helped in various areas throughout the night. Thanks to Dan Hodgson for managing the track and the software to facilitate the actual race itself.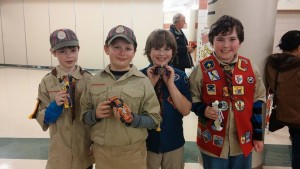 A special thanks to Troop 75 for their help in setup as well as help in multiple areas of the event activities throughout the evening. I encourage you to help support Troop 75 and join them for their Chili dinner on March 14th. Tickets are $6 each. For more info about this event please contact Brian Kuntz.
Thanks to Bolingbrook High School for the facilities and continued support of Valley View School District.
Awards will be presented to the boys at our March Pack Night on March 17th.
Thanks for the fun once again everyone. Great looking cars and fun races! Looking forward to next year already!
Tags: awards, BHS, cars, design, event, pack, pinewood, race, troop